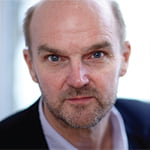 Studio Lambert founder and formats veteran Stephen Lambert is to receive the C21/FRAPA Gold Award, presented in association with MipFormats.
The award is given in recognition of outstanding achievement and contribution to the formats business, and will be presented at MipFormats in Cannes after Lambert's keynote address on Sunday April 7.
Lambert is chairman of All3Media America, the recently launched Los Angeles-based production hub for the All3Media Group, the largest group of independent production companies in the UK, Germany and New Zealand.
He is one of the world's best-known television executives, responsible for creating reality hits such as Undercover Boss, Wife Swap, Secret Millionaire, Perfect Match and Faking It. His programmes have won many awards, including more than half a dozen Bafta awards, the Rose D'Or of Montreaux (Europe's top entertainment award) and both Primetime and International Emmys.
Prior to launching Studio Lambert, he was chief creative officer at RDF Media Group. He began his career at the BBC in 1983 where he worked for 15 years making documentary films and series all over the world.
C21Media's editor-in-chief & managing director David Jenkinson said: "Stephen's creativity and lead on so many of the world's most innovative formats means he is one of the most prolific creators in the world. His shows are always fresh, never derivative, and always push the boundaries of the genre. We are delighted to recognise him this year."
Patty Geneste, Absolutely Independent's CEO and president and chair of FRAPA, added: "The FRAPA Board was unanimous about Stephen Lambert's nomination for the Gold Award. When you know how to conquer the world with strong formats such as Undercover Boss, you deserve to win this award."
Previous Gold Award winners have included Merv Griffin, Peter Bazalgette, Dick de Rijk and David Lyle.